Metal Fabrication Shop in New England
HISTORY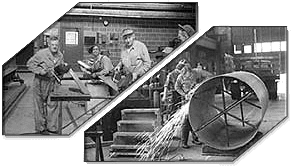 Ramsay Welding & Fabrication, Inc. was originally founded in 1968 by David Ramsay and operated as Ramsay Welding Research, Inc. and was the industry leader in developing the joining processes of new metal alloys and the processes that are standard practice today in welding shops. The company was sold to Brent Marks, the current owner and president, who had been with the founding company for over ten years before purchasing it in 1988 from David Ramsay. It was then renamed Ramsay Welding & Fabrication, Inc. to portray its future direction and emphasis as a full-scale metal fabrication shop in New England. As time passed, it was decided to add CNC Milling and, most recently, laser cutting services to better serve our customers' needs. In 2019, Brent Marks purchased an Amada 4000-watt sheet and tube combination laser cutting machine. The laser cutting services are run independently under the name of Quality Laser, Inc. in the same building as Ramsay Welding & Fabrication, Inc.
From Research and Development to Full-Service Metal Fabrication Shop and CNC Machining Services
The company has evolved into a full-service, state-of-the-art metal fabrication shop with over 55 years of industry experience.
The shop can handle work of all sizes and materials and has one of the largest inventories of filler wire for use in welding many alloys, including but not limited to 300 Series Stainless Steel, Inconel, Aluminum, Cupronickel, Titanium, Steel, and Copper.
Quality and Service
The focus on quality and service has always remained strong. Ramsay Welding takes great pride in the quality workmanship our experienced fabricators provide for customers. The expertise and master craftsmen employed at Ramsay Welding & Fabrication, Inc. are the best. Quality workmanship and outstanding Customer Service have driven the business's growth.
Custom Metal Fabrication
Today's ever-changing customer requirements have led to our primary focus, fabrication. The fabrication and welding of Stainless Steel, heavy Aluminum, and exotic alloys remains our house specialty. From prototyping to small to medium-sized production runs, as a metal fabrication shop, we have the personnel and the equipment to meet your metal fabrication needs.
CNC Machining Capabilities
The addition of a HAAS VF-11 CNC Machining Center with an X Y Z axis of 120″ x 40″ x 32″ expands our milling capability that was previously limited to 60″. The VF3-YSS CNC milling machine handles our smaller requirements with 40″ x 27″ x 30″ travel. Ramsay Welding & Fabrication, Inc. continually adds new equipment to expand capabilities and improve production efficiencies.